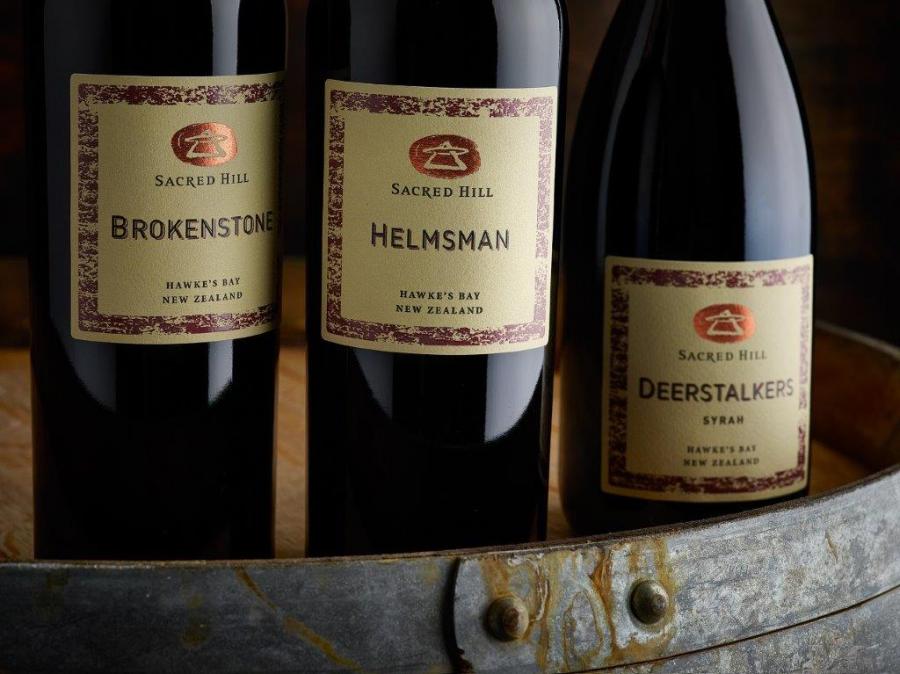 27 Feb

Another Stunning Vintage for Sacred Hill's Iconic Reds

Sacred Hill is excited to announce the addition of three red wines from the 2015 vintage to its Special Selection collection – a category reserved strictly for the pinnacle of the craft.  To be deemed worthy for Special Selection status, the wine is only produced in outstanding vintages from top quality fruit.

The Special Selection reds, which are to be released February 2018, are all from the Gimblett Gravels in Hawke's Bay. The collection includes: the elegant, yet powerful Helmsman; the Deerstalkers Syrah, with incredible depth; and the beautifully balanced Brokenstone.

Sacred Hill winemaker, Jack Cornes said: "Our Gimblett Gravels reds have proven themselves again and again at blind tastings around the world and this vintage is proving to be one of our finest. 2015 was our third sensational vintage in a row and it's in vintages like these that we really get to capture the essence of the vineyards and let the varieties shine through. These wines will definitely reward those who wait – if they have patience!"
The 2015 Special Selection Reds Collection:
2015 Sacred Hill Special Selection Helmsman             
Deeply coloured appearance. The aroma is beautifully perfumed and fragrant with cassis, ripe blackcurrant, white truffle and dark chocolate. The palate has ripe, black fruits, black olives with the sweetness of the Cabernet Franc showing through. Classically structured, this is a tightly bound, elegant yet powerful red wine with tremendous power on the finish.
RRP $84.99
2015 Sacred Hill Special Selection Deerstalkers Syrah       
Intensely coloured, deep red appearance. The nose has notes of roasted meats, purple flowers, blueberries and exotic pepper spices. Tremendous depth of flavour with supple velvety tannins, providing a rich and seamless flow to the back palate. Very persistent finish.
RRP $59.99
2015 Sacred Hill Special Selection Brokenstone                  
Impenetrable colour, the aroma is an explosion of dark damson plum, 10 spice, black olive, black liquorice and sandalwood notes. There is mouth filling richness on the palate with dark plum, Christmas cake and savoury, meaty complexity. The tannins are very fine grained with a soft, chalky quality providing beautifully balanced length.
RRP $49.99
The 2014/2015 growing and harvesting season made for an excellent wine-growing year. Warm dry weather during the critical periods of the growing season and perfect harvesting weather allowed for a completely un-compromised and un-hurried vintage. All three wines were fermented in small open topped fermenters then aged in French oak for maximum balance, structure and flavour.
Born from Hawke's Bay vineyards and optimum conditions, these blends are the perfect match for a variety of dishes with a depth of flavour and rich texture.
The Special Selection collection is drinking extremely well now and can be cellared for 10 – 15 years.
Please contact us for more information.